Managing your WooCommerce store just got a whole lot easier with the latest updates to Setary, the ultimate tool for WooCommerce product management.
Our powerful spreadsheet editor is packed with new features and improvements to help you streamline your workflow, save time, and enhance your online store's performance. In this blog post, we'll highlight our latest updates and explain how they can benefit you and your WooCommerce store in simple, easy-to-understand terms.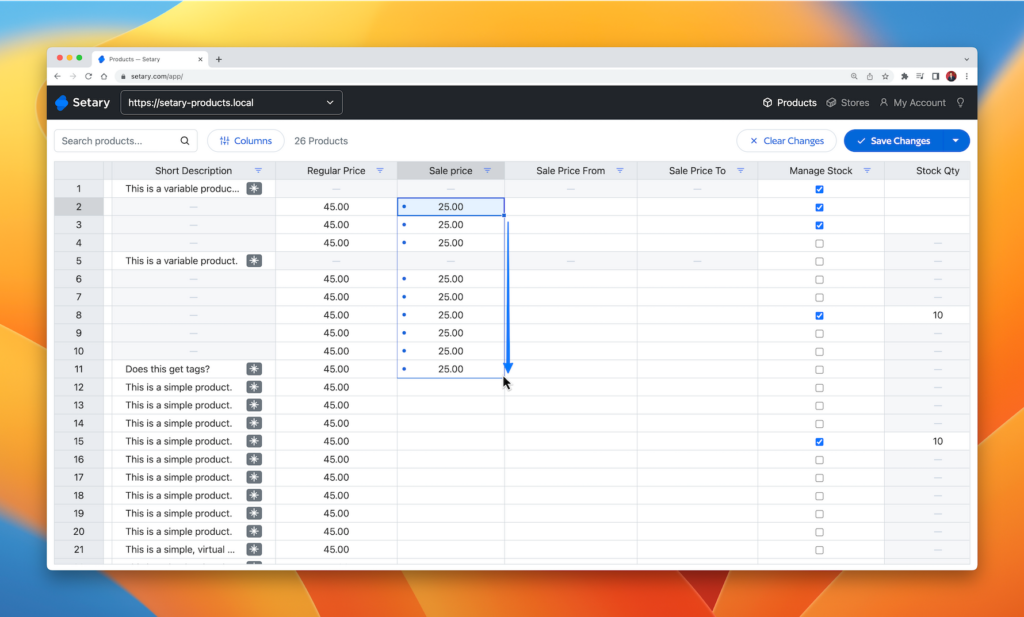 Introducing Fill Handle: Bulk Edit Products Effortlessly
One of the most sought-after features in WooCommerce product management is the ability to bulk edit products. We're excited to introduce the Fill Handle feature, which allows you to easily update multiple products at once by dragging a cell's contents into the cells below it. This convenient feature saves time and makes managing your products more efficient than ever before. Imagine needing to update a common attribute, such as a sale price or a category, for several products. With Fill Handle, you can make the change in one cell and then simply drag it down to apply it to multiple products in a matter of seconds.
Enhanced Batch Updates: Faster Product Management
Batch processing plays a crucial role in managing a large number of products. Previously, Setary would send a request for each product update, which could be slow and inefficient. We've improved our batch update capabilities by enabling you to update up to 100 products simultaneously with a single request. This significant improvement in performance will speed up your workflow, allowing you to manage your WooCommerce store more effectively, especially when dealing with a large inventory.
Faster Save Times: Streamlined Workflow
Slow save times can be a major bottleneck in product management. We've fixed an issue with spreadsheet cell re-rendering that caused save times to appear longer than necessary. Combined with the new batch updates feature, your product changes will now save faster than ever, enabling you to focus on managing your store with improved efficiency. This means you can spend less time waiting for changes to save and more time on other important aspects of running your WooCommerce store.
The updates we made here took one site we were testing with from 1m 12s to perform an update, to 8s. This level of speed improvement is incredible!
Mobile UI Refinements: Manage Your Store On-the-Go
In our quest to deliver the best possible user experience, we've optimized our mobile user interface for better usability on smaller screens. While we still recommend using Setary on a desktop for the best experience, these improvements make managing your WooCommerce store on-the-go more convenient and user-friendly. Key elements of the interface have been adjusted for better visibility and easier interaction on mobile devices.
The smartest way to bulk edit WooCommerce products
Try our demo now and see how you could save thousands of hours when managing your WooCommerce products.
or try the demo
3rd-Party Plugin Disabling: Enhanced Compatibility and Speed
Setary's updated helper plugin now disables 3rd-party plugins during fetch and save requests, ensuring a smoother experience and improved performance. This update reduces compatibility issues and increases the overall speed of the Setary editor, allowing you to manage your WooCommerce products more efficiently. By temporarily disabling these plugins, Setary reduces the chance of conflicts or errors, making your product management process more reliable.
Fixed ID/Parent ID/Type Column Issues: Reliable Customization
We've resolved issues users faced when saving products after opting to hide the ID, Parent ID, and Type columns. This fix ensures a smoother experience and more reliable performance when customizing your spreadsheet view, allowing for a seamless WooCommerce product management process. Now, you can confidently hide these columns without worrying about encountering any problems when saving your products.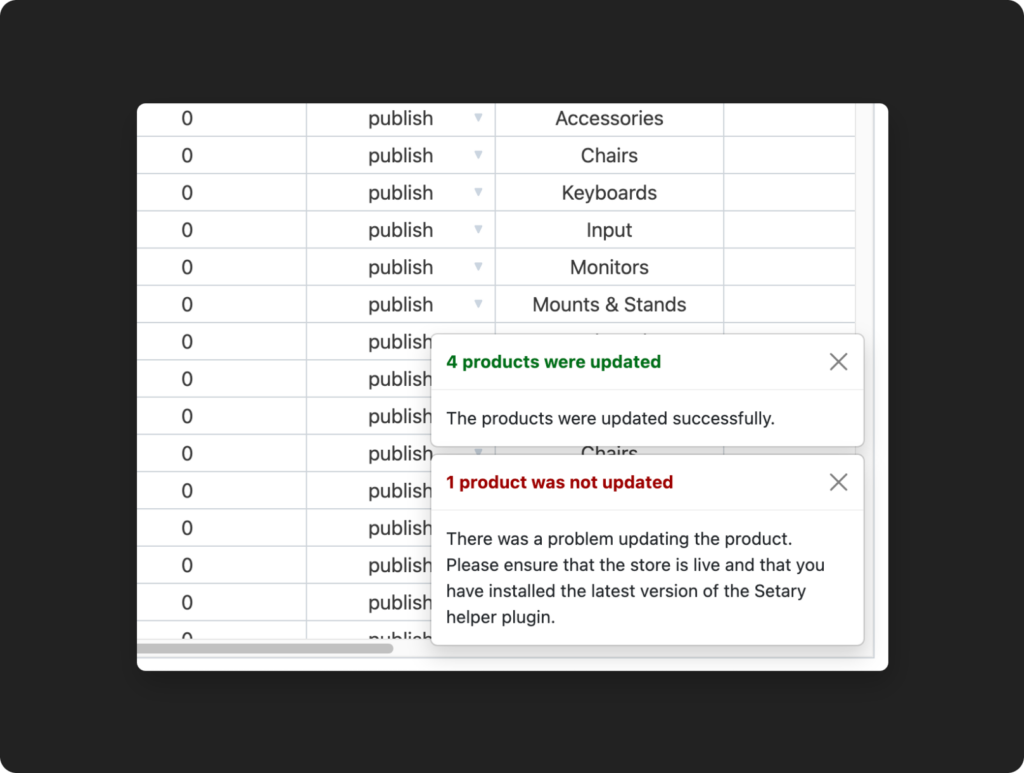 Improved App Notifications: Clearer Information and Guidance
We've worked on our app notifications to provide more useful information, context, and guidance. By combining product updates and error notifications into single notices, we've optimized space usage, ensuring a cleaner and more efficient user interface. These improved notifications help you better understand the status of your product changes and provide helpful tips for resolving any issues that may arise, making your WooCommerce product management experience even smoother.
Clear Changes when Switching Stores: Avoid Unintended Updates
For users who manage multiple stores, we've implemented a minor fix that clears any unsaved product changes when switching stores. This prevents the app from mistakenly applying updates to the wrong store, avoiding potential issues or conflicts that could arise from this situation. Now, you can switch between stores with confidence, knowing that your changes are applied only to the appropriate store.
Fixed Changed Cell Status Display: Accurate Change Tracking
We've corrected an issue where some modified cells didn't display the blue Setary dot, indicating a change. With this fix in place, you can now accurately track and view all changes made within the app, ensuring a seamless and reliable product management experience. This visual cue helps you keep track of edits and modifications, so you can be confident that your changes are properly recorded and saved.
Boost Your WooCommerce Product Editing Workflow with Setary
Setary's latest updates are designed to help you get the most out of your WooCommerce store management. Our powerful spreadsheet editor, combined with these new features and improvements, makes Setary the ultimate tool for WooCommerce product management. Don't miss out on the opportunity to revolutionize your store management experience – give Setary a try today and see how it can transform the way you manage your WooCommerce products.
The smartest way to bulk edit WooCommerce products
Try our demo now and see how you could save thousands of hours when managing your WooCommerce products.
or try the demo