Setary offers a powerful feature allowing you to edit WooCommerce product attributes in bulk. It's a game-changer for your online store management, saving you countless hours and clicks. This guide will walk you through the steps to leverage this functionality.
Step 1: Access Your Store through Setary
Start by adding your store to Setary. Once you've done that, navigate to the Products tab.
Step 2: Choose Your Attributes
Click on the Columns button, which opens the Columns dropdown. You can either scroll down to the end of the list, or start typing the name of your attributes to find them faster. Select all the attributes you wish to edit; Setary allows the editing of both global and product-specific attributes. Once you've selected the needed attributes, click Update Columns.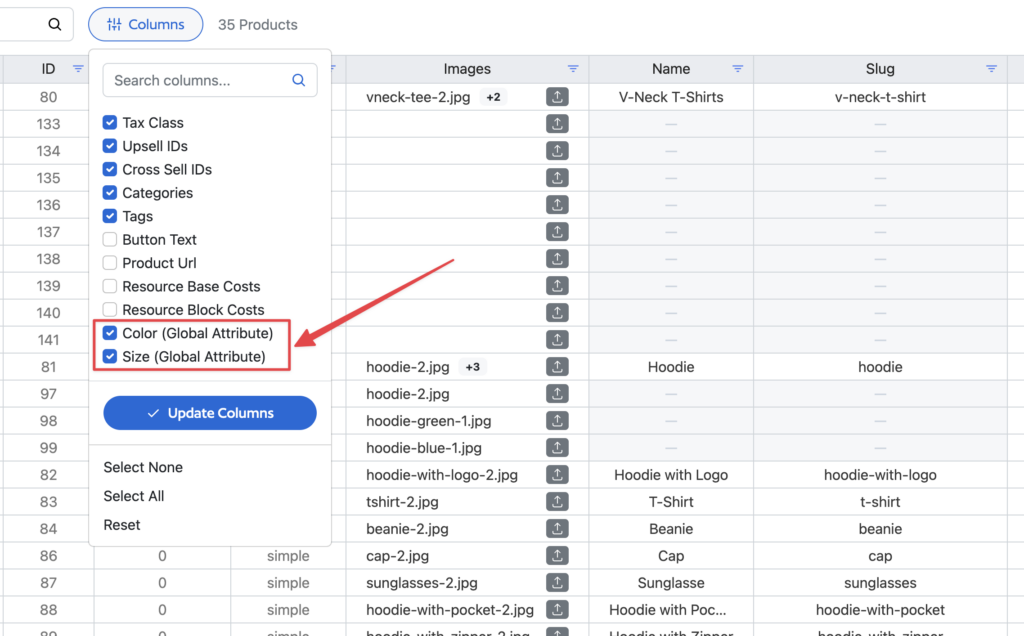 Step 3: Find Your Attribute Columns
Your selected attribute columns should now appear in the Setary spreadsheet editor. Scroll horizontally to the end of the spreadsheet to locate them.
Step 4: Edit Attributes
For all product types, excluding variations, attribute cells are text input fields. You can enter each attribute term separated by a pipe character (for instance, "Red | Green | Blue" for the Color attribute).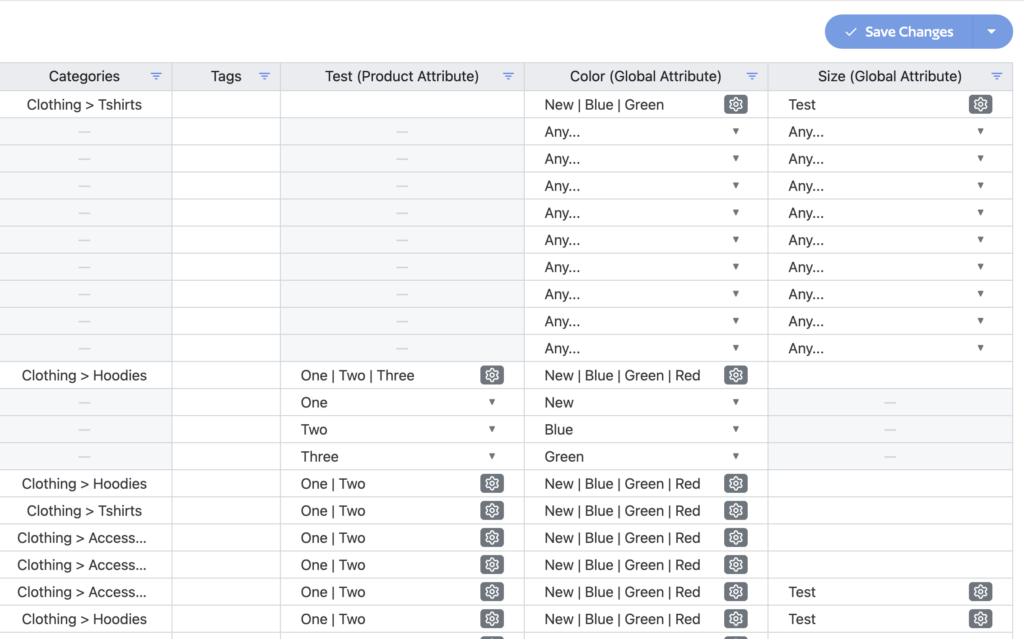 Step 5: Customize Your Attribute Settings
Every attribute cell comes with a settings icon. This handy tool enables you to mark an attribute as "Visible on the product page". For variable products, you can also toggle "Used for variations".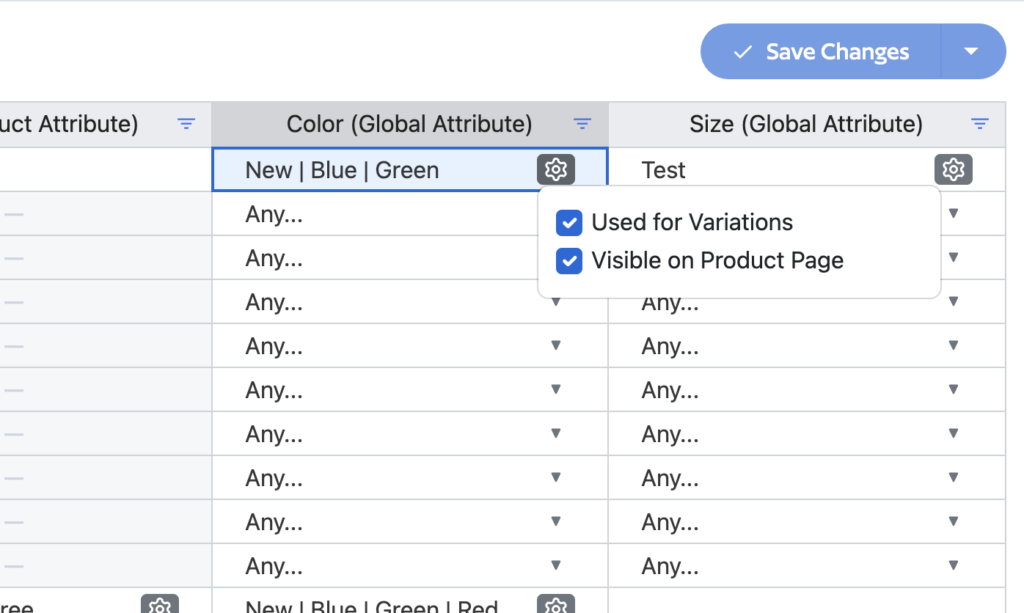 Step 6: Edit Variation Attributes
If you're dealing with variations, each cell becomes a dropdown field. This dropdown consists of the attribute values assigned to the parent product. Ensure that the "Used for variations" option is enabled on the parent variable product. It's important to remember that each variation can only have one attribute term.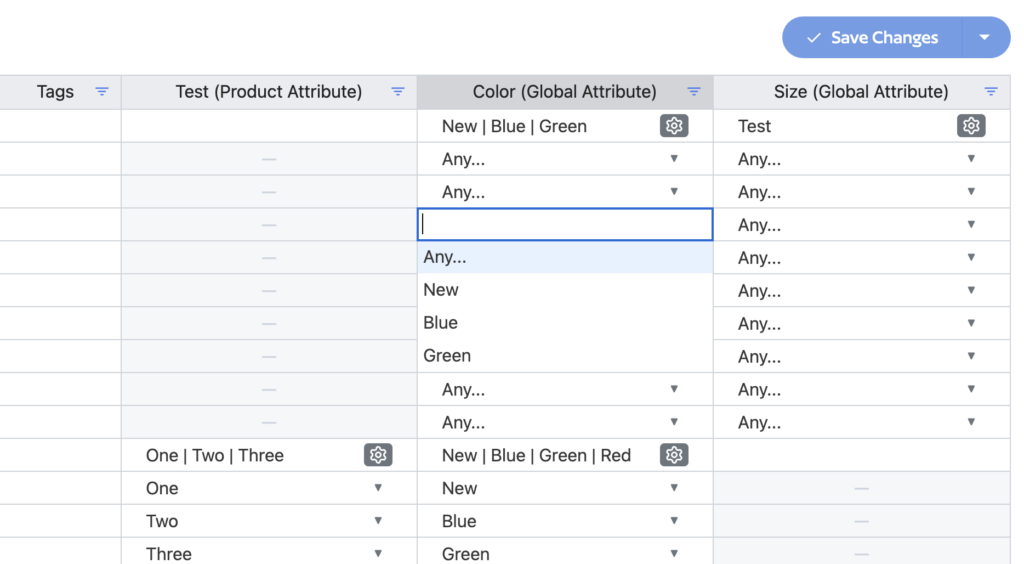 Step 7: Save Your Changes
When you're satisfied with the edits, click Save Changes to update your WooCommerce store.
Additional Notes
If an attribute term does not exist in your WooCommerce store, don't worry, Setary will create it when you save your changes.
The attributes themselves (Color, Size, etc) should exist on your store prior to editing in Setary. They can be added either manually to a product or globally under the Products > Attributes section in WooCommerce. You don't need to add all terms at this point; you can do that later in Setary.
For each variable product, you will need to re-add in the terms that a variation has access to, this can be copied and pasted or manually typed. As above, if the term doesn't exist, Setary will create it, if it exists, then the existing term will be used and not doubled up.
By following these steps, you can streamline the process of editing product attributes on your WooCommerce store. Remember, we're here to make your product management tasks more efficient, so don't hesitate to reach out if you need help along the way.