This guide will show you how to connect your WooCommerce store to Setary.
Go to the Setary app.
Click "Stores" in the app navigation.
Click "Add Store".
Follow the steps below.
Step One: Install the Setary Helper Plugin
Download the Setary Helper plugin.
What's this? This is a lightweight helper plugin that enhances the WooCommerce endpoints, making it easier for Setary to pull products from your store and update them in a performant way.
Install the Setary Helper plugin on your store:

Login to your WordPress admin area.
Navigate to Plugins > Add New.
Upload the plugin zip.
Click Activate.
Step Two: Manually Generate API Keys
Login to your WordPress admin area.
Navigate to WooCommerce > Settings.
Click Advanced.
Click REST API.
Click the button labeled Add Key.
Here you can enter the key details.

Enter "Setary" as the key Description.
Select a user with "Administrator" access.
Select "Read/Write" from the Permissions dropdown.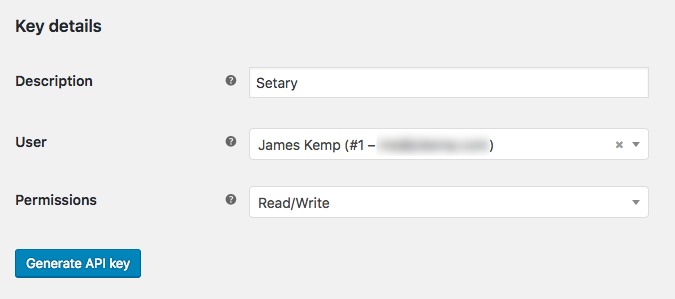 Click Generate API Key.
Make a note of the keys you're presented with, as you won't be able to access them again after leaving this screen.

Copy the Consumer Key and Consumer Secret values into their respective fields inside the Setary app.
Enter the URL of your WordPress install into the Store URL field inside Setary.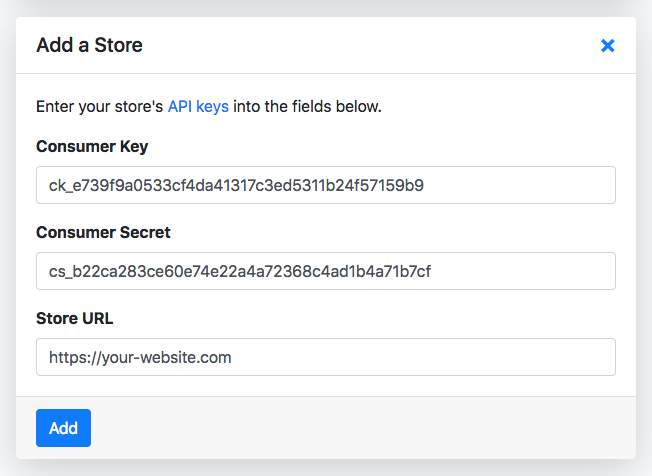 Click Add.
Your store should now have been successfully added.