WooCommerce has made managing e-commerce stores easier than ever. But when it comes to updating product descriptions, especially for a variety of common products, it can be quite tedious. The process of individually editing each product description in WooCommerce is time-consuming and inefficient. Bulk editing of product descriptions isn't possible with WooCommerce's built-in editor. We've made it possible.
Setary: Your Go-To Tool for Bulk Editing Product Descriptions
Introducing Setary, a robust bulk product management software, designed to make it easier to bulk edit product descriptions in WooCommerce. With Setary, you can effortlessly update multiple product descriptions all at once, saving you precious time and effort.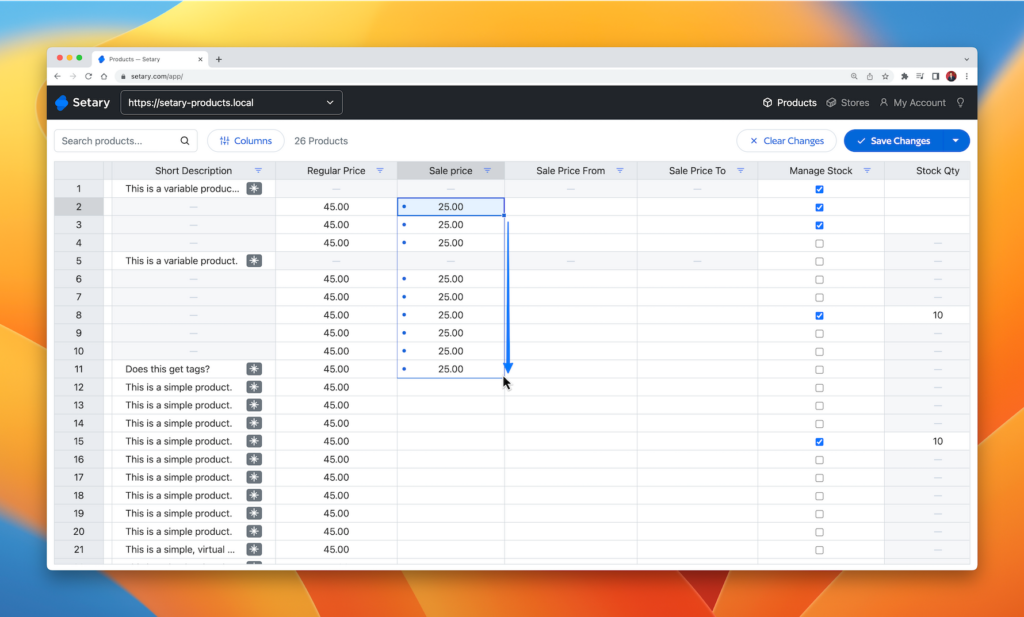 Just imagine this: no more copying and pasting into each individual product page. Instead, you can use an excel-style cell interface or our fill handle feature to replicate product descriptions across multiple products.
Getting Started with Setary: A Step-By-Step Guide
Step 1: Add your store to Setary.
Step 2: Navigate to the Products section in Setary.
Step 3: Use Setary's spreadsheet-style editor to locate the products and variations you wish to update. You can scroll all products or filter to refine your selection.
Step 4: Input new descriptions directly into the relevant cells under the Description or Short Description columns, or use our fill-handle feature to copy descriptions from other products. You can also take advantage of our integrated AI technology to generate unique, SEO-friendly descriptions.
Step 5: Once you're done editing, click Save Changes in Setary, and your WooCommerce store will be updated instantly.
Get Creative with Setary's AI-Generated Descriptions
But what happens if you're unsure about what to write, or want to ensure each product description stands out? Setary has you covered. We've integrated cutting-edge AI technology into our platform that can take your existing product descriptions to a whole new level.
With just a simple click, our AI can generate compelling, informative, and SEO-friendly descriptions for your products. This not only saves you time but also boosts your store's search rankings, improving your overall store performance.
The Power of Bulk Editing Product Descriptions with Setary
With Setary, you'll never worry about crafting individual product descriptions again! You can effortlessly bulk edit product descriptions, saving time and resources. And when you need a little help, our AI is there to create engaging descriptions that will captivate your customers and optimize your store's SEO.
Experience the power and convenience of bulk editing product descriptions with Setary today! Let us take care of the content, so you can focus on what truly matters – growing your WooCommerce store.
The smartest way to bulk edit WooCommerce products
Try our demo now and see how you could save thousands of hours when managing your WooCommerce products.
or try the demo